Waste Acid Recovery by Diffusion Dialysis
Chemical foil industry-Sulfuric acid reuse project by diffusion dialysis

The waste water containing sulfuric acid/aluminum sulfate or nitric acid/aluminum nitrate is produced in the corrosion section of chemical foil production. The diffusion dialysis device can effectively achieve the reuse of sulfuric acid and nitric acid instead of the traditional neutralization treatment method with acid recovery > 80% and metal ion rejection > 90%. At present, the coverage rate of diffusion dialysis acid recovery technology in waste acid treatment in the chemical foil industry has reached more than 85%.




Aluminum profile industry-Sulfuric acid recovery project by diffusion dialysis

A large amount of waste sulfuric acid is generated during the anodizing process of aluminum profiles. The diffusion dialysis device can purify more than 80% sulfuric acid from the waste liquid, and the retention rate of aluminum ions can reach 90%.The aluminum ion concentration in the returned oxidation bath is less than 1g/L, which has a good effect on the stability control of aluminum ions in the bath. And the quality of aluminum profiles is significantly improved, while the power consumption and waste water disposal costs are greatly reduced, and greater economic benefits are achieved.



Copper hydrometallurgy industry-electrolytic lean solution copper removal project by diffusion dialysis

In copper hydrometallurgy production, high concentration acid solution and copper ions exist in the mother liquor in the copper precipitation process. Sulfuric acid is recovered by diffusion dialysis device. The recovery rate of sulfuric acid can reach more than 80% and the copper rejection rate is more than 90%, which greatly reduces the amount of liquid alkali consumed in mother liquor treatment. At the same time, the sulfuric acid recovered by diffusion dialysis is adjusted by adding high concentration acid and returned to the original process for continuous use, bringing good economic and environmental benefits to the enterprise.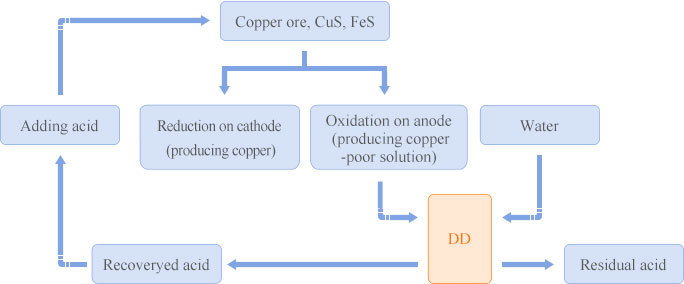 Graphite industry-Mixed acid recovery project by diffusion dialysis

The mixed acid in the graphite industry, containing hydrochloric acid, nitric acid and hydrofluoric acid, was purified and separated by the diffusion dialysis device of Shandong Tianwei Membrane Technology Co., Ltd. The acid recovery rate reaches more than 80%, and the recovered liquid is concentrated in proportion to continue to return to the graphite production process for use, which not only solves the problem of high-concentration mixed acid discharge, but also realizes the effective reuse of mixed acid.




Pharmaceutical Industry-Hydrochloric acid recovery project by diffusion dialysis

In the production process of pharmaceutical intermediates, 16%-18% hydrochloric acid waste liquid is produced. The hydrochloric acid and copper chloride are separated by a diffusion dialysis device, and the concentration of the recovered hydrochloric acid can reach more than 15%. After further enrichment, it is returned to the original production process for continued use, and the residual liquid after removing the acid is neutralized. The process realizes the reuse of acid, and also reduces the amount of alkali used for neutralization and the salt content of neutralized water.